We are Hiring Great People to Work With Great People.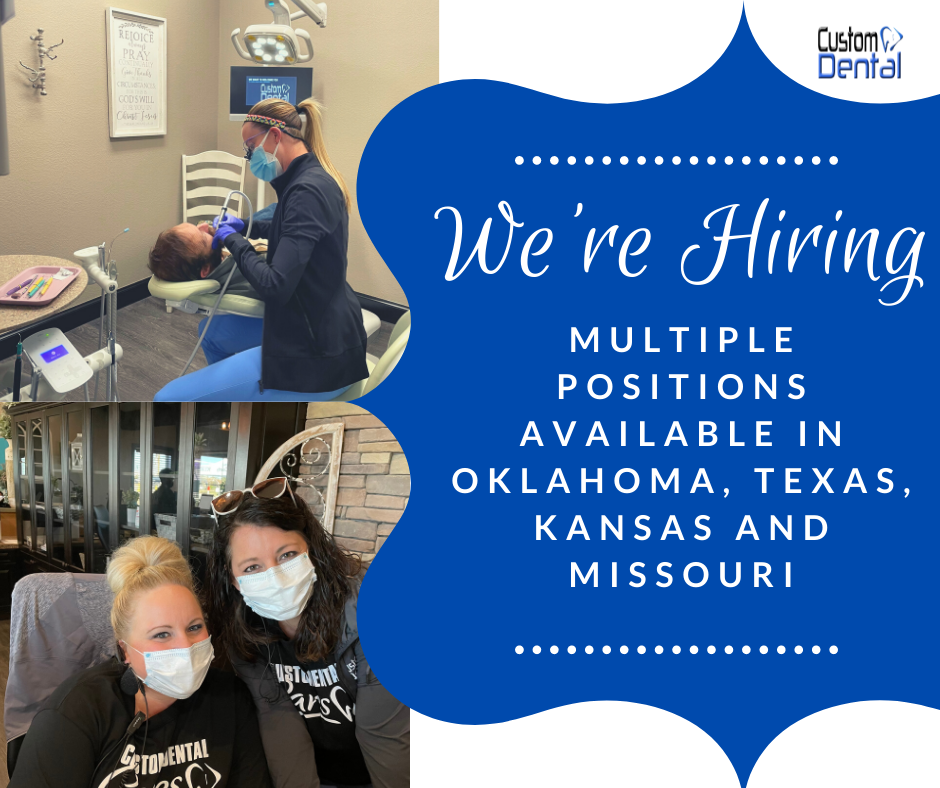 The Custom Dental hiring process ensures the best fit for our organization.
We Believe in Recruiting Good People with Great Personalities
Everything about a position can be learned but you cannot always teach positivity and work ethic. Not only do we want quality people to care for our patients, we want quality people to share our day with! We want to start every morning excited about going to work, and we want you to as well. The entire Custom Dental hiring process is designed to discover talented people with a nurturing nature who work well both as part of a team or independently. So how do we find you?
---
Step One: Getting The Word Out
We begin with simple advertisements. We prefer to post our ads on Facebook, Craigslist, and in local newspapers, but we also rely heavily upon employee referrals and job fairs. In fact, we offer a $50 cash bonus to team members who refer new hires. We try to canvas as many different outlets as possible to spread the word to a diverse group of potential team members.
Step Two: The Interviews
We encourage individuals to call our career line and answer a few questions, allowing us to learn more about their experience, how well they follow directions, and whether they respond quickly under pressure. Once we find potential candidates, we interview and ask the right questions. We are looking for professionals who want a career, not just a job..
Step Three: Working Interview
The next step is a paid, working interview. This allows us to measure their skills and knowledge while making sure they would be a fit for our team while also affording our candidate to learn whether they would enjoy working with us. At this stage, Custom Dental can comfortably extend an offer to our candidate.
---
What Can You Expect Once You Join Our Team?
Starting a new job can be overwhelming. Learning where everything is and how everything is done, on the fly, can be stressful. We try to alleviate much of the frustration by offering an excellent training program along with mentoring. We'll provide you with training that will highlight collaboration, communication, problem solving, and diversity. We will also pair you with a mentor for the first few weeks so that you can learn by doing and ask questions as they occur to you, learning in real time from a seasoned staff member.
You will love being part of the Custom dental family. We offer excellent salaries and benefits, including health insurance, sick days, vacation days, continuing education, an exceptional working environment, and of course, incredible dental coverage!
How Do You Get Started With Custom Dental?
It's simple. Just call 1-888-633-4018 and answer the following questions:
How do we contact you?
Where do you live?
What past dental and/or non-dental experience gives you the unique abilities and talents to perform well in this position?
Why do you feel you would be a superstar at Custom Dental?
After answering those simple questions, please download and print this Personality Assessment Test and keep your results (we'll want those later!) We use this test to get to know you a little better and how you'd fit into our awesome culture.
Then send your resume to cmorris@customdentalusa.com.